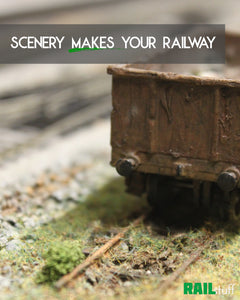 Press Release: Scenery Makes Your Railway campaign launched by RAILstuff
NEWS RELEASE: Wednesday 27th April 2022
RAILstuff launch 'Scenery makes your railway' campaign
Model railway scenics and accessories retailer RAILstuff are today launching a campaign focused on how important scenery is to creating a great model railway layout.
The "Scenery makes your railway" campaign invites modellers to share stories and pictures of their favourite scenic project, and the transformation from track on a board to a more realistic scene.
RAILstuff are also tapping into the debate around rising costs of locomotives in the hobby by discussing the strong value of scenic items in comparison and the benefit they can bring to a layout.


Speaking on the campaign idea, RAILstuff owner Adam Eley said: "RAILstuff was set-up with a specific focus on scenics as the joy that comes from creating a realistic scene from nothing is one of the most satisfying things you can do when modelling.
"Working on the lineside scene is a great outlet for creativity and RAILstuff is dedicated to providing a great range of high-quality, affordable items to help modellers discover the joy of bringing realism to their layout."


Over the coming weeks RAILstuff will roll this campaign out across their social media accounts, YouTube channel and website.
ENDS
About RAILstuff:
RAILstuff is a specialist online retailer of model railway scenics, accessories, electronics and more – with a focus on high quality products at affordable prices.
RAILstuff has curated a range of products from big brands as well as finding newer and smaller brands that fit the RAILstuff ethos.
RAILstuff trades at rail-stuff.com and numerous shows up and down the country.
www.rail-stuff.com  /  Instagram @railstuff  /  YouTube – Search 'RAILstuff'
---