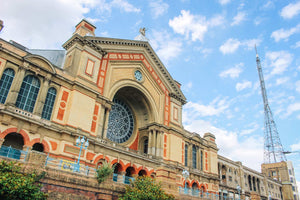 Our view of Ally Pally
The London Festival of Railway Modelling 2022
A week or so on from our debut at Alexandra Palace and now seems like a good time to talk about the show from a trader's point of view.
Arriving on the Friday to set-up I have to say the organisation of the unloading and how simple it was for exhibitors was way beyond our expectations - we were able to drive in to the hall, unload, and then move the van before starting the set-up proper.
The aim as always was to get as much product out, neatly arranged, in the smallest space possible to maximise our return on investment - As you'd expect with such a large show, the space was pricey!
Saturday was busy and trade was brisk - Sunday a lot quieter (even compared to expectations).
To cover off the negatives first... the whole weekend was a little quieter than hoped and didn't stack up to Milton Keynes last year in terms of trade - but maybe there was a lot more family folk there that are not exactly excited by the scenery side of things!
The parking for exhibitors was plentiful, but tricky - mainly for us as I am still in a plaster cast so needed to get as close as possible to make it easy to get in and out - To that point, I think there really should be a provision of disabled spaces for exhibitors by the rear entrance... but we managed.
On the subject of disabled access, there was a very small number of accessible toilets, and these were seemingly locked about 30mins before the show finished - which was not idea for me to say the least!
But, there were many more positives...
We met some fantastic people across the weekend and gained some really useful and kind feedback - Thank you to everyone that bought from us, browsed with us, or even just stopped to chat. This hobby is full of kind and fantastic people.
We also met some new friends on the trading side:
John Bristow from Deluxe Materials gave us some great advice and support and we are proud to range their products.
Daniel from 3D Printing Corner was our neighbour all weekend and he and his wife were very helpful and friendly, and we may well take on some of their excellent products in the near future.
Jakub from LCUTcreative was super helpful and I'm pleased to add their range to the site now.
Same goes for the team from WWScenics - who have changed some of their terms to better suit smaller retailers like us, so we are thrilled to be bringing them on board very soon!
Finally, the organisation of the event was slick, well prepared and delivered a great experience for all.
Congratulations to Bev and the whole team - we look forward to returning to the old place next year!
---