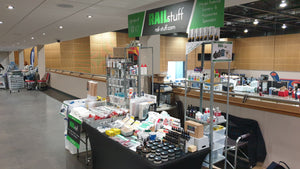 GETS 2021: A great weekend
Wow, just wow... What an event the Great Electric Train Show 2021 was - and a superb place for RAILstuff to make its big show debut.
Firstly I want to say a huge thank you to everyone that had such kind things to say about what we are doing and the products we are working with. Our journey is your journey too and your encouragement means a huge amount.
Next up, big kudos to Hornby Magazine and the team for pulling this event off. From our perspective it was smooth sailing and very well organised.
So, what did we get up to?

Friday:
Friday was a travel and set-up day - lovely to have the time to do it properly
Arrived around 1pm and finished the set-up around 6.30
Saturday:
Early start and a Greggs breakfast (got to be done!)
Manic sales day, our biggest ever!
Attended the Hornby Magazine Awards 2021 - Congrats to all the winners
Panic rush around MK to find some more change and some more bags - we ran out of both
Had a lovely dinner with new friends from the show
Sunday:
Re-stock of the stand after the customary Greggs breakfast (sausage and bacon roll, kethchup, cappuchino)
Slower start to the day but building to another manic day by early afternoon
Pack up, load up and drive home - Finally home around 8pm
---